Equipping Midwives With Knowledge and Skills Improves the Quality of Newborn Care in Madagascar
Although access to essential, quality health care remains a challenge in rural Madagascar, a well-trained and supported cadre of health workers is saving lives and increasing communities' confidence and trust in the primary health care system.
Meet Anasthasie, a midwife living in northwestern Madagascar. Anasthasie has served her community for 20 years at the primary health center in rural Amborovy. Her daily life as a midwife is far from routine. She knows her job is vital, and every delivery unique. Her role is to provide mothers and babies with quality, safe, and reliable care during pregnancy and childbirth, which includes knowing what to do to resuscitate a newborn in the case of complications like birth asphyxia – the second leading cause of death among newborns in Madagascar.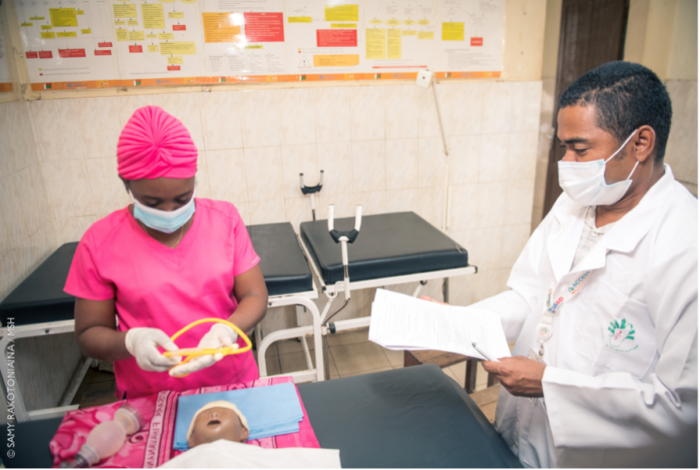 For health workers in rural and low-resource settings like Anasthasie, continuous education and skill-building are crucial to save lives and provide quality services to the population, particularly as clinical standards evolve. The USAID-funded ACCESS program, led by Management Sciences for Health, supports the provision of quality health services by training health workers in 14 of Madagascar's 23 regions in maternal and neonatal care. Implemented in partnership with the American College of Nurse-Midwives and the American Academy of Pediatrics, these clinical skills building programs provide ongoing training on vital skills, like newborn resuscitation. By equipping them with modern resuscitation techniques like suctioning, stimulation, and ventilation, the programs offer health workers like Anasthasie opportunities to expand their knowledge and improve their skills — and save more newborns' lives.
"As a certified midwife, I have strong school-based knowledge and acquired experience on newborn resuscitation. But medicine and healthcare are constantly evolving, and I'm extremely proud of these new skills that help me save lives" (Anasthasie).
Hands-On Continuous Learning
Beyond the training program, USAID ACCESS has worked with the Ministry of Public Health to renovate regional training offices throughout the country and to create equipped skill labs, where health workers can practice resuscitation techniques and other procedures at their own pace and continuously refresh their skills by conducting practical drills or taking refresher training courses.
The learning and support continue outside the skill labs. After the initial training sessions, clinical mentors regularly visit Anasthasie on-site and provide follow-up training and supervision to help her deliver the best possible care to her patients. The frequency of these visits evolves based on needs.
Building Community Trust
In Madagascar, an expectant mother's likelihood to deliver her baby with the support of a skilled birth attendant is influenced by multiple factors, but trust in health workers and in the quality of care provided at health facilities are critical. This is particularly true in communities where many families live far distances from the nearest health center. Knowing they will be met with trained providers who will offer them quality care helps expectant mothers and families feel confident in seeking out services at health facilities, ultimately increasing their chances for a safe delivery.
"In the first six months after the training, I have been able to resuscitate six babies who were not breathing at birth. People know that, and I can definitely say that it helped increase the number of antenatal care and deliveries at the center" (Anasthasie).
Since 2018, more than 1,700 health workers like Anasthasie have been trained on newborn resuscitation. Between 2021 and 2022, the successful newborn resuscitation rate in health centers rose from 86% to 89% across 11 ACCESS-supported regions. This means that three more babies were saved per every 100 newborns not breathing or crying at birth.
"Seeing the happiness of a mother holding her healthy baby for the first time is my greatest satisfaction. These trainings have changed my life, but they have also changed the lives of the people I have served!", said Anasthasie.
As the global community convenes at the International Maternal and Newborn Health Conference to reprioritize and advance maternal and newborn health, it is essential that we maintain focus on efforts to increase the capacity of health workers to deliver quality, responsive, person-centered care.
Note: this blog was adapted from its original post by Management Sciences for Health.