Community Content Submissions
In addition to upcoming MNH-related content on the Global MNH Strategic Roadmap, we are also seeking your content submissions to the AlignMNH Knowledge Hub. Help us drive the conversation around maternal and newborn health and contribute to current and future knowledge-sharing.
In an effort to maximize learning and sharing, we will be highlighting the latest content that aligns with each of the IMNHC 2023 conference tracks and cross-cutting topics in the months leading up to the conference.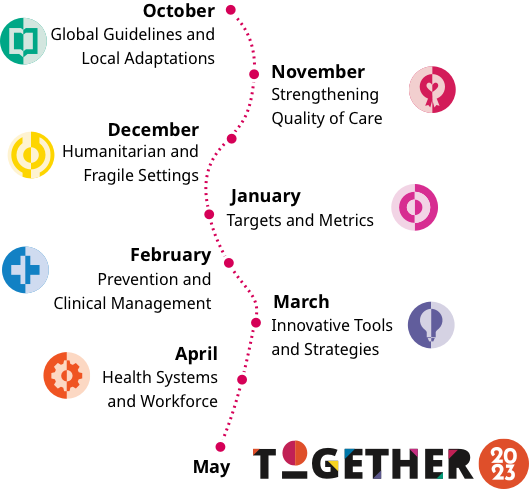 Types of content for submission:
Blog ideas
Share ideas on the impact of your work, the latest evidence, interventions, data, and more to be featured on the AlignMNH blog
Multimedia/storytelling
Share videos and multimedia efforts to illustrate technical concepts
Amplify key voices by submitting storytelling pieces or spotlights to be featured on the AlignMNH blog or social media
Technical content
Contribute to, and curate content around priority MNH topics to be added to the AlignMNH Issues Collections that align with the IMNHC conference tracks, by sharing:

Key and emerging evidence
Global recommendations and guidance
Program learnings and country experiences
Implementation resources and tools
Investment cases and advocacy materials

Additional learning and discussion (commentaries, editorials, COPs)
Submit a resource to be added to the AlignMNH Resource Library that highlights the latest evidence
Contact alignmnh@jhpiego.org with any questions.