Measuring Global Progress
At the global level, MNH targets to date have focused on mortality reduction and service coverage targets but other measures are needed to capture related issues such as coverage and quality of care. Moller et al. provide a history of maternal and newborn health outcome monitoring, documenting global key events and initiatives over recent decades that show how maternal and neonatal mortality and morbidity, and stillbirths, have been viewed, when they have achieved higher priority on the global agenda, and how they have been measured, monitored and reported. Despite substantial improvements, enormous MNH disparities that persist within and between countries indicate an urgent need to focus on reducing inequities. This sub-section summarizes global maternal and newborn health targets including the Sustainable Development Goal (SDG) MNH targets, the Every Newborn Action Plan (ENAP) and Ending Preventable Maternal Mortality (EPMM) targets, in addition to providing examples of comprehensive monitoring frameworks and data on present levels and trends.
Targets
The global community is slowly adopting new targets that incorporate quality of care components in addition to mortality indicators. AlignMNH highlights the following resources that lay out targets for maternal and newborn health progress on both a global and national scale. Although ambitious for countries with high mortality, these goals call for an increased focus on ensuring mothers and babies both survive and thrive. The below infographic displays the 90/90/80/80 targets recap: 90% of pregnant women receive >4 antenatal care contacts; 90% of births attended by skilled health workers; 80% of new moms/babies receive postnatal care within 2 days of birth; 80% of country districts can access emergency obstetric services & SSNC.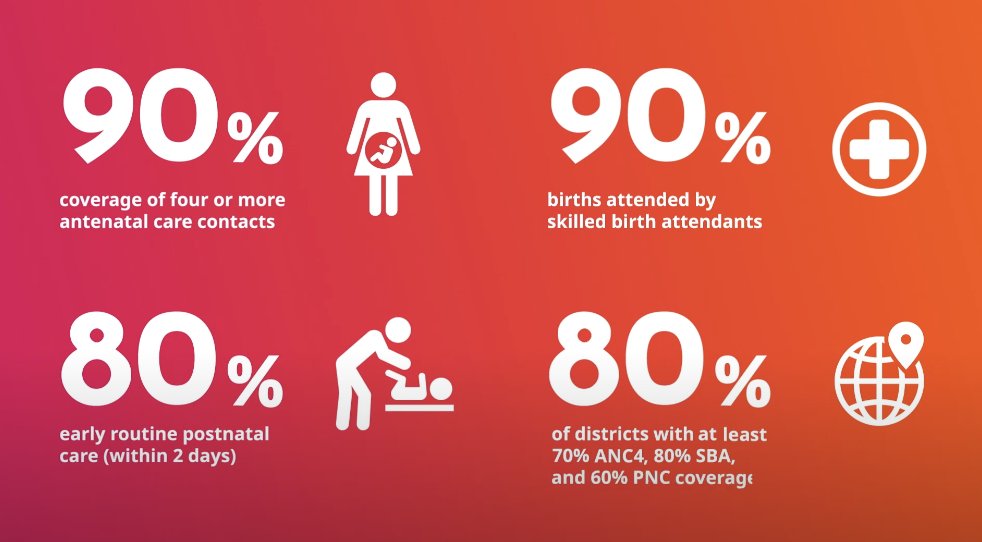 Source: Improving maternal and newborn health and survival and reducing stillbirth: progress report 2023
Levels + Trends
Moller et al. reminds us that we still depend on estimates since reliable data are still not collected or made available on a regular or frequent basis in many countries. There is a need for countries and donor agencies to invest in improving routine health management information systems, including improvements to the availability, quality (accuracy), timeliness, analysis and use of these data. These resources provide estimates on current levels and trends and include additional information on relevant policies focused on maternal and newborn health care.