Innovative Tools and Strategies That Meet the Needs of Women and Their Newborns
As a recent World Health Organization report reveals, we are in danger of missing the Sustainable Development Goal (SDG) maternal health targets, with approximately 800 women dying each day in 2020 from preventable causes related to pregnancy and childbirth. The situation is no better for newborns, with 63 countries—most of which can be classified as low- or lower-middle-income countries—at risk of missing the neonatal mortality target. In 2021, about 2.3 million babies died within a month of their birth, with sub-Saharan Africa carrying the greatest burden. Many of these deaths could be prevented by providing high-quality care for both mother and baby around the time of birth.
Innovations can help reverse this troubling trend by bringing care closer to where women live, advancing health workers' ability to provide care to more women more efficiently, and identifying and addressing gaps in care early. Whatever the new approach to care, latest technology, or most novel tool, the innovations must be appropriate to the communities and settings in which they are used. They must take into account the resources of the community they are meant to serve. And, most critically, the innovation must be positioned to improve health outcomes. From human-centered design and interactive voice messaging to machine learning and data visualization, the following tools and strategies illustrate how innovations can accelerate progress toward SDG targets.
Machine Learning Supports Newborn Risk Assessment in DRC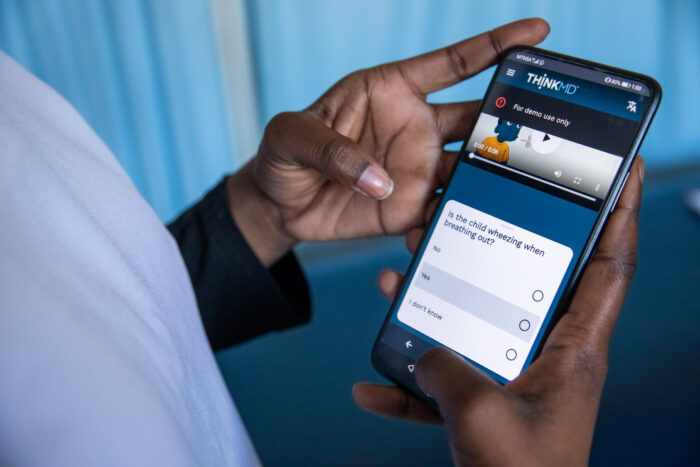 Infection is the leading cause of newborn deaths. When a newborn shows signs of possible serious bacterial infection, the standard of care is admission to the hospital and administration of intravenous antibiotics until tests determine whether infection is present. In settings where hospital admission is not possible, the World Health Organization recommends simplified courses of injectable and oral antibiotics. However, although the simplified regimens have shown to be doable in routine health systems, the technical resources required have proved a barrier to scale-up. To address this barrier, Jhpiego worked with ThinkMD to develop a module that helps frontline health workers determine next steps when a newborn is brought into a health facility showing signs of possible serious bacterial infection, including appropriate and precise treatment. The module is part of a newborn clinical assessment tool that uses machine learning to support clinical decision-making. The module, which can be accessed on a mobile device and does not require an Internet connection, is being tested in the Democratic Republic of Congo.
Family-Led Care for Moms and Babies in Ethiopia
In an effort to find more effective ways to address high rates of maternal and newborn mortality, the Bill & Melinda Gates Foundation-funded Antenatal/Postnatal Care Research Collective (ARC) went directly to women in Ethiopia, Kenya, Malawi, and Mali to understand how they experience care and how they want care to be delivered. Among the findings in Ethiopia was that women tend to distrust the health system for postnatal care and instead rely on family and neighbors during this period—turning to the health facility only as a last resort. So, to ensure that women and newborns receive the quality care that can save lives, ARC invited the immediate family into a conversation that typically includes only the new mother and a health worker. Family-led postnatal care leverages human-centered design and self-care principles to ensure new mothers and their babies receive care and monitoring during the child's first week of life. The mother and her family receive instructions on basic monitoring equipment and are guided to check out and use a community home care kit for six days following delivery. Any danger signs are reported to a local health worker for follow up and data is collected monthly. Implementation research is now being conducted in four health centers in Ethiopia.
Low-Tech, Low-Cost Support for New Moms in Afghanistan
Postnatal care is one of the most underused services in Afghanistan—a situation made even more dire given ongoing service interruptions and increased restrictions on women's movement. Technology can play a critical role in areas experiencing conflict or security challenges. In Afghanistan, an initial $60,000 investment led to a mobile phone-based interactive voice recording system, based on the Viamo Platform, that sends messages about key health topics (such as breastfeeding, danger signs, immunization, and mental health) to new mothers. The pilot reached more than 200 postnatal women from six hospitals in Kabul. The intervention is being scaled up through the U.S. Agency for International Development-funded Urban Health Initiative project and expanded to include antenatal care messaging. It aims to reach 34,000 women.
Data Dashboards to Improve State-Wide Maternal Health Services
In India, the Integrated Women in Health Network (iWin) project is addressing maternal and newborn care at a systematic level to improve outcomes for women and their babies. In line with its "data for action" objective, iWin aims to improve access, continuity, quality, and financial safety of the health monitoring system. A new comprehensive data dashboard linked to the National Health Mission's auxiliary nurse-midwife online reproductive child health portal in Madhya Pradesh can be used to visualize key indicators related to antenatal care, postnatal care, and deliveries to support maternal and child health reviews in the state as well as programmatic and strategic planning at the state and district levels.
Big or small, focused on individuals, families, or systems, innovative approaches have the potential to improve care for thousands of mothers and babies, reduce deaths, and help countries reach their SDG targets. Ongoing investment in health innovations is needed to ensure that women and families everywhere have equitable access to high-quality health care delivered by competent, caring providers, leading to stronger communities and more resilient countries.
Joan Taylor is an editor at Jhpiego.