Transforming Maternal and Neonatal Health through Deployment of Portable Ultrasound at Scale
In 2020, almost 95% of all maternal deaths occurred in low and lower middle-income countries (WHO). In sub-Saharan Africa, as many as 200,000 mothers and 28 of every 1000 infants die in childbirth every year (UNICEF, WHO). Globally, many critical efforts are underway to improve the quality of antenatal care through investments in clinical training, healthcare infrastructure, and the supply chain. One element of the quality antenatal care puzzle – ultrasound during pregnancy and delivery – is a critical tool for early detection of life-threatening complications. However, to date, access to affordable ultrasound technology has been extremely limited, especially in settings like sub-Saharan Africa. Uptake and sustainability of many biomedical and medical imaging technologies in low-resource settings has been lacking due to inadequate healthcare provider training and post-implementation support. Globally, 4.7 billion patients lack access to medical ultrasound (RAD-AID).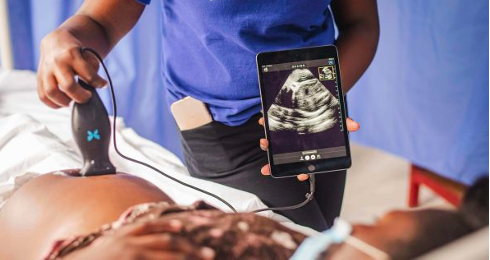 In partnership with Global Ultrasound Institute, Butterfly Network, Inc has launched the largest ever deployment of point-of-care ultrasound (POCUS) equipment to mid-level providers across Kenya and South Africa, with funding from the Bill & Melinda Gates Foundation. Beginning in September 2022 on the campus of Kenyatta University in Nairobi, the project commenced with a week-long training of midwives, clinical officers and physicians from 8 counties in Kenya. By the end of 2022, 514 providers completed training and are now offering point-of-care ultrasound scanning for pregnant mothers at 224 public health facilities across Kenya. Phase 2 of the project, which will distribute an additional 500 Butterfly iQ+ devices in South Africa, is expected to launch in the first half of 2023.
The curriculum developed and implemented in partnership with the Global Ultrasound Institute introduced learners to Butterfly iQ+ device operation, image acquisition, image integration, and medical decision-making. At the outset of the training, 50 Kenyan clinicians and sonographers with prior ultrasound experience were trained in ISUOG-standard techniques to develop a cadre of local expert trainers. During subsequent trainings, learners were specifically trained in use of Butterfly iQ+ to identify several high-risk conditions of pregnancy, including measurement of fetal heart rate to assess for fetal distress, fetal position to identify malpresentation, placental and fluid anomalies, and multiple gestation. Following the training, learners were provided with remote quality assurance review of scans by expert trainers.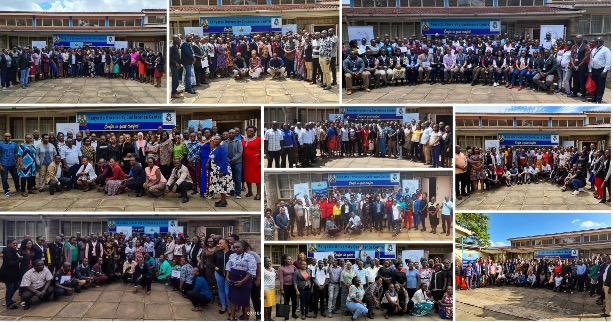 Initial qualitative and quantitative findings from the Kenya deployment suggest extraordinary adoption and utilization of the devices on the part of the trainees, and regular identification of high-risk conditions resulting in referral of the patient to higher levels of care. For example, at one month post-training, a survey showed that 90% of respondents identified a high-risk condition – such as placenta previa or multiple gestation – using their Butterfly iQ+ device. Continued impact evaluation on the implications of introducing widespread antenatal ultrasound on the public healthcare referral system and on population-level maternal health outcomes will be conducted by Kenyatta University's College of Nursing. The Kenyatta University team will evaluate deployment of the iQ+ devices on maternal health and birth outcomes including missed diagnoses of multiple gestation and malpresentation resulting in prolonged labor, as well as referral patterns from lower to higher level health facilities and the proportion of ANC visits achieving an antenatal ultrasound before 24 weeks gestation, per the World Health Organization's recommendation for a positive pregnancy experience (WHO).
With the support of our partners undertaking this transformative work, Butterfly believes that widespread obstetrical ultrasound dissemination, education and implementation has the power to change the trajectory of maternal and neonatal health in sub-Saharan Africa, and in low-resource settings around the globe. In addition to advancing maternal & neonatal health targets under SDG 3, and achieving the WHO recommendation that all pregnant women receive an antenatal scan before 24 weeks gestation, Butterfly iQ+'s broad clinical utility and affordability allows for its integration into progress on multiple targets under SDG 3, and will broadly advance health system quality and resilience when deployed at scale alongside education and implementation support.
Butterfly Network, Inc. and Kenyatta University will be presenting their experiences deploying medical ultrasound to practitioners across Kenya in the Technical Marketplace at IMNHC2023 in May, and we hope attendees will attend our booth. To learn more, visit Butterfly Network's website or email Heather Harmon Donahoe at hharmon@butterflynetinc.com
Butterfly Network, Inc. gives thanks to the many partners involved in the Kenya phase of this historic deployment, including Global Ultrasound Institute, our device management and security partner Jamf, Kenyatta University, our device distributor Phillips Healthcare Services Ltd, as well as our funder Bill & Melinda Gates Foundation.
The Butterfly portable ultrasound system is for use by trained healthcare professionals. Carefully read all cautions, warnings and operational instructions prior to use. Not all presets, imaging modes and features are available everywhere. Check for availability in your country.
Heather Harmon Donahoe, MPH, is the Manager of Global Health Partnerships at Butterfly Network.