Gender-Based Violence and Maternal and Newborn Health Outcomes
Around the world, women and girls continue to face protection risks, posing significant threats to their physical and mental health and well-being. When women are subjected to gender-based violence (GBV), it not only affects individual health, but has impacts on the health and well-being of the newborn. Crisis situations, including disaster, conflict, and the ongoing COVID-19 pandemic, exacerbate GBV, particularly among those living in already fragile settings. One in three women will face GBV in her lifetime. GBV is a multidimensional human rights violation, and requires a multidisciplinary approach. In observance of International Women's Day 2022, taking place 8 March, we spoke to experts and practitioners from Uganda, South Sudan, and Chad—Anna Modong, Draleru Maturu Judith, and Samy Luketa—to explore the intersection of maternal and newborn health (MNH) and GBV protection and prevention. The three offered insights into the inherent linkages they've witnessed between GBV and MNH and offered recommendations for the way forward.
(Note: Anna and Judith chose to answer our questions together because they have worked closely throughout their careers.)
Q: Please introduce yourself, including your name, job description, and where you work.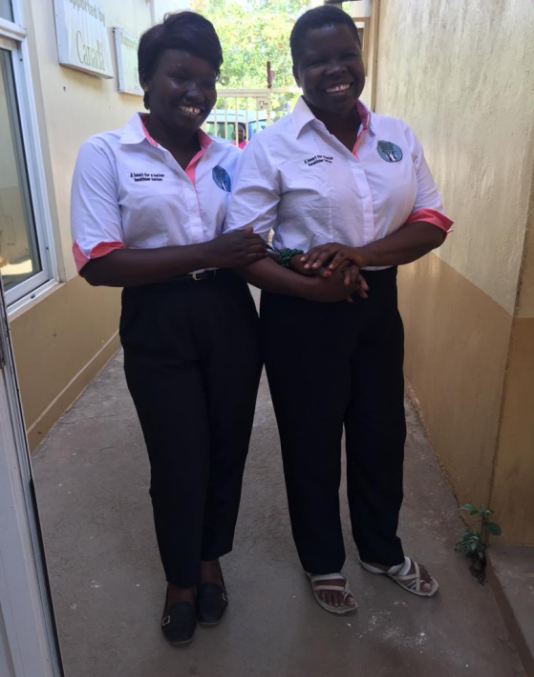 Anna: My name is Anna Modong, and I am a nurse-midwife and trainer. I have worked with the International Medical Corps at Juba College of Nursing and Midwifery in Juba, South Sudan, as well as Kiruddu National Referral Hospital, Kawempe National Referral Hospital, and Hioma Regional Referral Hospital in Uganda, where I attained most of my MNH knowledge and skills. Some of my job responsibilities include triaging patients, providing health education, conducting wellness screenings, providing antenatal care (ANC) services, and teaching students. I am driven by my passion for women's health (obstetrics) and my desire to see a better South Sudan health care system, where women's health is prioritized, and it is considered a basic need for every pregnant woman to receive the best care that she needs to keep her and her unborn baby safe.
Judith: My name is Draleru Maturu Judith, and I am a Nurse-Midwife (Registered Comprehensive Nurse), as well as an Enrolled Mental Health Nurse, Public Health Officer, Peace and Conflict Analyst and public speaker. I have my postgraduate diploma in armed conflict and crisis management. I worked in my country, Uganda, for 10 years under the Ministry of Health and various Non-Governmental Organizations (NGOs) before moving to work at United Nations Population Fund (UNFPA) South Sudan as an International United Nations Volunteer midwife based in the National Referral hospital Juba. My key responsibilities included providing respectful SRHS/MNCH/GBV services, training/clinical instruction/mentoring for staff and students, leadership/management and Adolescent/Youth Friendly Health Services, as well as supervising and conducting research for evidence-based practice. Currently, I am working as Head of Clinical placement at Nimule Institute of Health Sciences, South Sudan.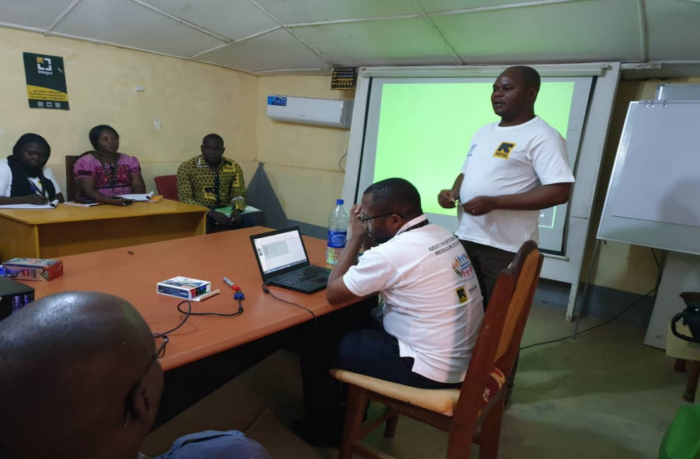 Samy: My name is Samy Luketa. I am a doctor of medicine and hold a master's degree in public health. For the past 12 years, I have been working in the field of reproductive health with a focus on sexual and reproductive health (SRH) of youths and adolescents and on reproductive health and rights. Currently, I am the senior reproductive health manager at the International Rescue Committee (IRC) Chad. For the past three years, we have increasingly worked to integrate reproductive health in the protection and empowerment of women. Some activities include ensuring that all reproductive health projects are implemented according to Ministry of Health standards and donor recommendations; contributing to the development of the reproductive health portfolio by integrating it in areas of intervention, including primary health care, women's protection and empowerment, and economic welfare; and developing and adapting programming models that allow for increased access to and quality of reproductive health services.
Q: In your experience, what are the linkages between MNH and GBV?
Samy: In my experience, the link between maternal health and sexual violence includes psychological problems, including anxiety and depression; high probability of unwanted pregnancy—and the consequences this may entail; exposure to sexually transmitted infections (STIs), including HIV/AIDS; and rejection by communities, which may lead to guilt, lack of emotional support, and even suicide.
Anna and Judith: GBV is a major roadblock to providing quality MNH in South Sudan, Uganda, and the developing world. This is compounded by the humanitarian crises, weak judicial systems, and lack of political will at grassroots. Women and girls mostly suffer the consequences of sexual violence, physical violence, economic and structural violence, social-cultural violence, gender inequalities, and harmful traditional practices (early/forced marriages, female genital mutilation). These act as catalysts, thereby increasing maternal and newborn morbidity and mortality.
Gender-based violence is a major roadblock to providing quality maternal and newborn care in South Sudan, Uganda, and the developing world.
Q: What barriers do women face in receiving support and protection from GBV?
Anna and Judith: There are several barriers women face in receiving support and protection from GBV. There are cultural barriers as many women do not want to disclose abuse due to cultural or societal norms. There are systemic legal barriers as women are faced with discriminatory judicial processes and legal procedures that discourage them from seeking justice. There are health system barriers, such as lack of provider knowledge on GBV, lack of human resources in health centers, and lack of resources to manage survivors. There are information barriers such as little knowledge about GBV services and insufficient support systems available in the community. There are infrastructure barriers in facilities as many lack space to manage survivors' privacy and confidentiality. There are economic barriers and lack of economic empowerment, often forcing many women to remain as dependents. GBV often results in psychological trauma, including self-blame, anxiety, depression, and suicide. Finally, there are personal factors as many survivors may not disclose their experience out of fear of rejection by their own family.
Q: Are there examples of programs/projects that integrate both MNH and GBV support?
Anna and Judith: In terms of service delivery, there is little or no integration at all. In South Sudan, for example, GBV services are run by NGOs/UN, rather than government, so it stands separate from maternal health services. GBV services are delivered in hospitals, but it is mainly a one-stop centers comprised of mostly social workers and counselors. There is a strong need for multidisciplinary care, and a greater need to integrate GBV and maternal health services.
Samy: Yes, we (IRC Chad) are currently implementing a very interesting project for the population that integrates maternal health and GBV. The aim of the project is to improve the health and safety of women and girls, focusing on those who have reduced access to SRH and GBV services during COVID-19. IRC will provide an integrated package of essential and lifesaving GBV and SRH interventions to over 200,000 women, adolescent girls, and men. This includes internally displaced persons and refugees in the six countries where GBV and SRH services are least available or nonexistent, and where humanitarian needs are high. Activities should be based on the individual needs of each country using integrated approaches that aim to achieve integrated health and safety outcomes.
Q: What are the long-term impacts of GBV on MNH outcomes for survivors?
Anna and Judith: Long-term impacts include increased maternal and newborn morbidity and mortality; increased teenage/unwanted pregnancy; increased stillbirths; increased chance of disability following unsafe abortion or childbirth complications, including secondary infertility; psychological effects, including pain and flashbacks, depression, suicidal tendencies, anxiety, and post-traumatic stress disorders; and economic effects, including high health expenditures in complicated cases, loss of educational achievement, and reduced ability to participate in social and economic development.
Samy: Sexual violence can significantly impact women's health. This may include disability that the violence may have caused, chronic illnesses to which women may have been exposed, and psychological trauma that may impact a woman's life.
Q: Has COVID-19 impacted the safety of pregnant women in the populations you work with?
Samy: In Chad, there have been many consequences of COVID-19. There have been cases of obstetric complications, including death, because women did not want to go for ANC visits for fear of exposure to the virus. There were also high rates of home deliveries and domestic violence.
Anna and Judith: First and foremost, the linkages of MNH to GBV have been compounded by the COVID-19 pandemic. This added petrol to a burning fire, and the effects are deep in this humanitarian crisis. It has led to an epidemic of GBV, as a series of total and partial lockdown measures resulted in increased rates of abuse. In addition, teenage pregnancies and related consequences are on the rise.
It has also created fear of contracting COVID-19 by pregnant women and spreading it to their fetus. This resulted in a significant reduction in the number of women attending ANC services within hospitals, resulting in decreased birth preparedness and increased complications such as disability and death. Many women have also faced lack of access to transportation, making it difficult for pregnant women to travel to health facilities for services.
Finally, many hospital staff have a fear of contracting the virus as well as lack of transportation, causing staff shortages to care for patients.
First and foremost, the linkages of maternal and newborn health to gender-based violence have been compounded by the COVID-19 pandemic. This added petrol to a burning fire, and the effects are deep in this humanitarian crisis.
Q: Where do we go from here? Do you have recommendations for how to move this work forward?
Anna and Judith: Yes. Some of our recommendations include:
Work to reduce GBV in facility-based care by training staff and teaching the importance of respectful maternity care for quality improvement.
Screen mothers for history of GBV, and create a birth plan that favors them.
Refer survivors with mental health conditions for counseling and treatment.
Listen to clients' fears during examinations and procedures.
Strengthen community and family structures to protect women and girls.
Strengthen community awareness.
Increase integration for survivors of GBV with maternal health services.
Promote advocacy and policy to enhance government and civil society response to GBV.
Increase research for evidence-based and low-cost interventions.
Samy: The most important recommendation I can make is to continue activities that contribute to the reduction of maternal and infant mortality, and the fight to reduce violence against women. When we find ourselves short of the necessary means to carry out these activities, we tend to think that we are not helping people who are in danger. The needs are so great, but the means are lacking, hence the need to mobilize increased funds to continue saving lives.
This interview was conducted by Andrea Edman, Advocacy and Communications Specialist, IAWG Newborn Initiative at International Rescue Committee and Bridget Hartnett, Senior Communications Specialist, AlignMNH at Jhpiego.