Small & Sick Newborns
Implementation Resources and Tools
This page includes reports, guidelines, and toolkits related to kangaroo mother care (KMC), preterm birth, antenatal corticosteroids (ACS), and care for small and sick newborns.
---
Kangaroo mother care: implementation strategy for scale-up adaptable to different country contexts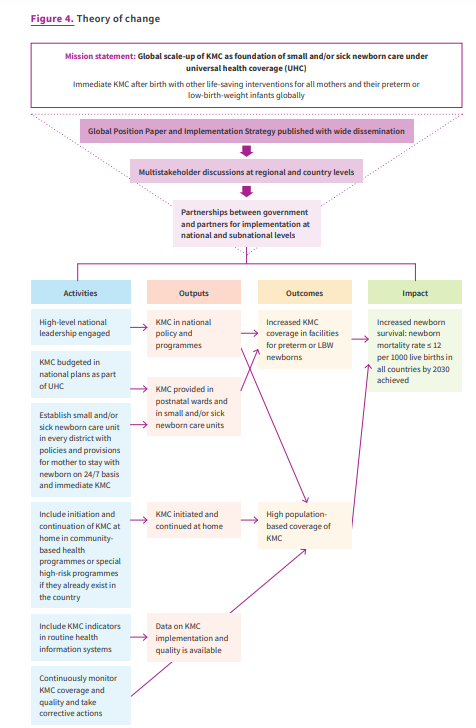 Summary
Implementation of KMC is central to achievement of the SDGs for the survival, health and well-being of preterm or LBW infants, both well and sick, through its successful scale-up at all levels of facility care and in the community. Based on the new evidence on successful scale-up of KMC in programmatic settings from several countries, complemented by the joint wisdom and experience of global stakeholders, this implementation strategy is intended to guide the way forward for universal coverage of KMC for all preterm or LBW infants, both well and sick. This implementation strategy is meant to inspire a renewed vision in which mothers and infants are kept and cared for together from birth, and where parents and families play a central role in the care of their infants, thus humanizing health care.
Highlights
Achieving KMC implementation at scale requires:
A system-wide perspective and structural changes to place mothers and infants at the center of care by keeping and caring for them together after birth
A commitment by political and program leadership to implement KMC as the foundation of small and/or sick newborn care
A dedicated budget for implementing KMC as part of small and/or sick newborn care in national maternal, newborn and child health programs
Developing and implementing a monitoring and evaluation framework to track progress.
How to Use
KMC has been shown to be an essential intervention superior to standard radiant warmer/incubator care in all settings. All countries, irrespective of their income setting and resource availability, should adapt this strategy to their health system contexts to realize the full impact of KMC in improving the survival, health and well-being of mothers and preterm or LBW infants alike.
---
Implementation Toolkit for the Care of Small and Sick Newborns
NEST360 & UNICEF, 2021

The Network for Improving Quality of Care for Maternal, Newborn and Child Health (Quality of Care Network) is a broad partnership of committed governments, implementation partners and funding agencies working to ensure that every pregnant woman, newborn and the child receives good To meet coverage and mortality targets, high quality newborn care is needed at scale. The Toolkit for Small and Sick Newborn Care, launched on World Prematurity Day 2021, brings together readings, tools and learnings to provide a one-stop shop for implementers to act, use, share and learn. Information in support of WHO norms and standards from more than 300 implementers around the world is systematically organized in this open access online toolkit to enable implementation and reach every newborn. In case you missed the launch event, the recording is now available.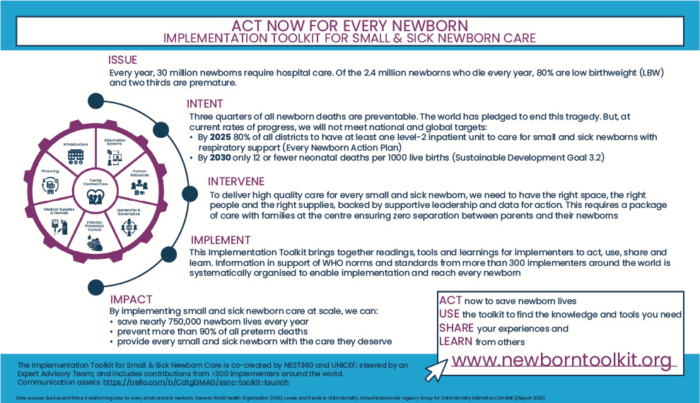 ---