Small & Sick Newborns
Global Recommendations and Guidance
This page includes a select set of global recommendations and guidance, including frameworks, roadmaps, and thematic briefs related to the care of small and sick newborns.
Every Newborn Action Plan
World Health Organization, UNICEF, 2014.

It is estimated that 3 million lives could be saved each year through investing in quality care around the time of birth and providing special care for small and sick newborns. Launched in 2014 by WHO & UNICEF, the Every Newborn Action Plan (ENAP) supports SDG 3.2 (see below), aimed at ending preventable deaths of newborns and children under 5, presenting evidence-based solutions to prevent newborn deaths and stillbirths. It sets out a clear path to 2020 with specific global and national milestones. The plan builds on the United Nations Secretary General's Global Strategy for Women's and Children's Health and the Every Woman Every Child movement, that supports governments by providing guidance to strengthen newborn health in existing health sector plans and strategies, as related to reproductive, maternal and child health. The vision of the plan includes a world in which there are no preventable deaths of newborns or stillbirths, where every pregnancy is wanted, every birth is celebrated, and women, babies, and children survive and thrive. Discover the Measurements, Targets, & Data Collection for more information on ENAP.
SDG 3.2
National Neonatal Mortality Rate (NMR): Less than 12 deaths per 1,000 live births by 2030,
and less than 10 deaths per 1,000 live births by 2035
Measures of Success and Progress:
The Every Newborn 2018 Annual Report, Reaching Every Newborn National 2020 Milestones, provides an up-to-date account of country progress reported by the 75 countries and territories who use the Every Newborn Tracking Tool. The report provides an in-depth look at the progress towards the eight Every Newborn Milestones. According to results, there has been overall improvement across all national milestones, demonstrating commitment to achieving the milestones as outlined in ENAP.
The Every Newborn 2019 Annual Report, Reaching Every Newborn 2020 Targets & Milestones, provides an update on country progress report by the 90 countries and territories, 34 of which that have the highest burdens of neonatal mortality and stillbirths, who use the Every Newborn Tracking Tool.
The Ending Preventable Newborn Deaths and Stillbirths by 2030: Coverage Targets 2020-2025 report was released in 2020, as the COVID-19 pandemic threated to undermine progress in health systems. It provides a review and updated coverage targets and milestones to guide progress between 2020 and 2025. The document also sets out new global, national, and subnational targets and key actions that can be taken in partnership to accelerate progress. For more information and key findings related to this resource, discover the Stillbirth Collection.
---
WHO Recommendations on Interventions to Improve Preterm Birth Outcomes
World Health Organization, 2015

Issued by WHO in 2015, this document offers policy makers and program managers guidance for developing job aids and tools in pre or in-service training to strengthen delivery of MNH care for preterm birth. Ten recommendations are outlined covering interventions for the woman (antenatal corticosteroids, tocolysis, magnesium sulfate, antibiotic prophylaxis, and mode for birth), and interventions for the newborn (kangaroo mother care, plastic wraps, continuous positive airway pressure, surfactant and oxygen therapy).
---
Guideline: Managing Possible Serious Bacterial Infection in Young Infants when Referral is not Feasible
World Health Organization, 2015

This guideline, developed by a panel of international experts and informed by a thorough review of existing evidence, provides recommendations on the use of antibiotics for neonates and young infants (0–59 days old) with possible serious bacterial infection (PSBI) in order to reduce young infant mortality rates. This guideline is intended for use in resource-limited settings in situations when families do not accept or cannot access referral. It provides programmatic guidance on the role of community health workers (CHWs) and home visits in identifying serious infections in neonates and young infants. It also provides clinical guidance on the simplest safe and effective antibiotic regimens for outpatient treatment of clinical severe infections and fast breathing (pneumonia) in children 0–59 days old. This guideline helps providers care for sick young infants whose families cannot access more advanced care.
Key Findings
In cases where hospitalization is not possible at all, critically ill children should be given one of the following treatment regiments until hospitalization becomes possible (for up to 7 days)
Twice daily intramuscular ampicillin and once daily intramuscular gentamicin
Once daily intramuscular ceftriaxone with or without once daily intramuscular gentamicin
Twice daily intramuscular benzyl penicillin and once daily intramuscular gentamicin
Once daily intramuscular procaine penicillin and once daily intramuscular gentamicin
---

Human Resource Strategies to Improve Newborn Care in Health Facilities in Low- and Middle-Income Countries
World Health Organization, 2020

This roadmap aims to provide a framework for countries to improve quality of care for newborns, including care for small and sick newborns, and support countries to achieve the SDG target to reduce neonatal mortality to less than 12 per 1000 lives births by 2030. It consists of 10 strategies to guide countries in developing their policies to improve the number and competencies of the health care workforce to deliver high quality essential care for small and sick newborns.
Key Messages
Critical for universal health coverage and to meet the SDGs by 2030: Countries must invest in the health care workforce to achieve universal health coverage, meet the SDG targets, and ensure the vision of the Every Newborn Action Plan that every newborn not only survives, but thrives.
Rights-based and family-centered: All newborns have the right to quality, evidence-based, nurturing care from health workers with the appropriate knowledge, technical skills, and behavioral skills, working in partnership with families.
Opportunity to save lives now: Facility-based births will provide links to maternal care, ending preventable stillbirths, and extending newborn services for improved outcomes.
Preventing disability: The focus should be on high quality care, not just reducing neonatal death. This will also help optimize neurodevelopmental outcomes.
Promoting equity: Addressing inequity in human resources will reduce neonatal mortality and morbidity.
Promoting high quality care and well-being: Strengthening human resources for health policies will enable countries to manage, train, recruit, and retain health workers.
---
WHO Standards for Improving Quality of Care for Small and Sick Newborns
World Health Organization, 2020

Issued by WHO in 2020, these standards for the care of small and sick newborns in health facilities define, standardize and mainstream inpatient care of small and sick newborns, building on essential newborn care and ensuring consistency with the WHO quality of care framework. A resource for policy-makers, health care professionals, health service planners, program managers, regulators, professional bodies and technical partners.
---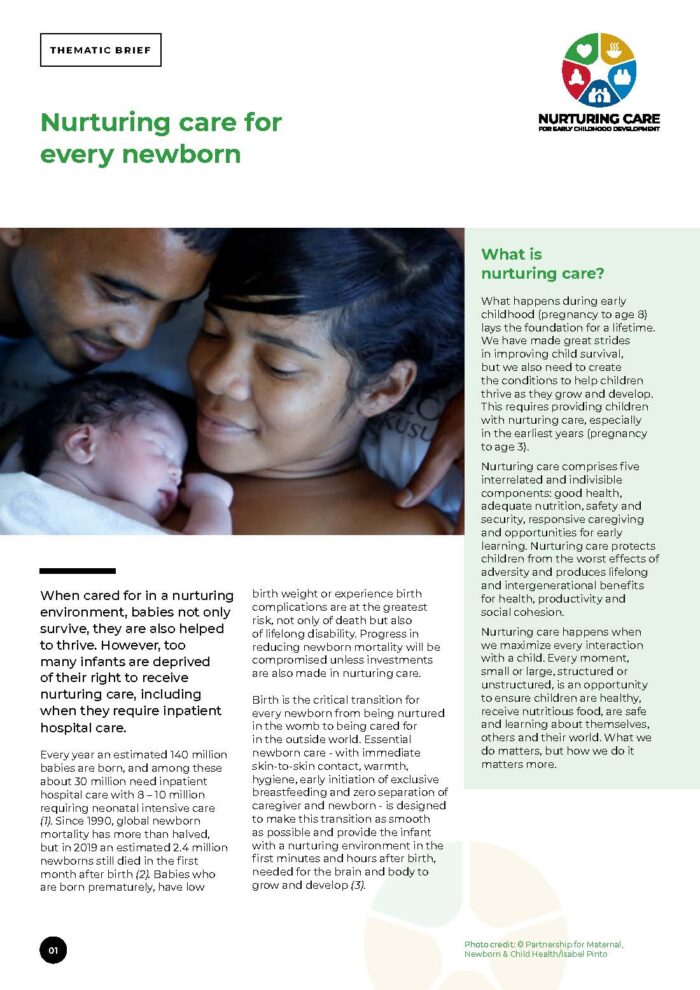 Nurturing Care Thematic Brief
World Health Organization, 2021

This thematic brief outlines the importance of nurturing care and its five interrelated components (listed below). In the first month of life, it is imperative that all five components be supported for every newborn:
Good health: preventing and managing illness, including evidence based-high quality care for small and sick newborns

Adequate nutrition: optimizing exclusive breastfeeding or breast milk feeding, including for small and sick newborns

Safety and security: warmth, good hygiene, minimizing stress, and enabling the primary caregiver, most commonly the mother, to be with the infant in a quiet environment

Early learning: stimulating the baby's brain through touch, voice, or contact

Responsive caregiving: being aware of the newborns' signals, which may indicate readiness to feed, pain or stress, and responding to them appropriately.

---
Survive and Thrive: Transforming Care for Every Small and Sick Newborn
World Health Organization, 2021

This report maps out a pathway towards 2030, to achieve the SDG target to end preventable newborn deaths (with all countries aiming to reduce the neonatal mortality rate to less than 12 deaths per 1,000 live births), and is built upon epidemiology, historical trends, lessons learned and evidence-based interventions. According to this report, if appropriate, transformative action is taken globally, small and sick newborns can and will survive and thrive as future productive members of society. With strategic partnerships and innovative approaches, the international community can transform all aspects of newborn care, making it available, high quality, well utilized, and affordable. Without rapid progress, some countries will not meet this target for another 11 decades.
Recommendations Include:
Providing around-the-clock inpatient care for newborns, seven days a week.
Training nurses to provide hands-on care working in partnership with families.
Harnessing the power of parents and families by teaching them how to become expert caregivers for their babies, which can reduce stress, help babies gain weight and allow their brains to develop properly.
Including the provision of good quality care as part of country policies and making a lifelong investment for those who are born small or sick.
Counting and tracking every small and sick newborn so that managers can monitor progress and improve results.
Allocating the necessary resources (an annual investment of US$ 0.20 cents per person can save 2 of every 3 newborns in low- and middle-income countries by 2030).
---
Evidence Based Clinical Practice Guidelines for Follow-up of At-Risk Neonates
Pan American Health Organization, 2021

These recommendations are intended to facilitate policy implementation processes carried out by decision-makers and members of government, as well as parents, mothers, and caregivers. Topics include hospital discharge criteria, including screening tests; information for parents, mothers, and caregivers; screening at follow-up visits; and frequency of follow up for up to 2 years of age.