Small and Sick Newborn Care: Using an Innovative Systems Approach to Implementation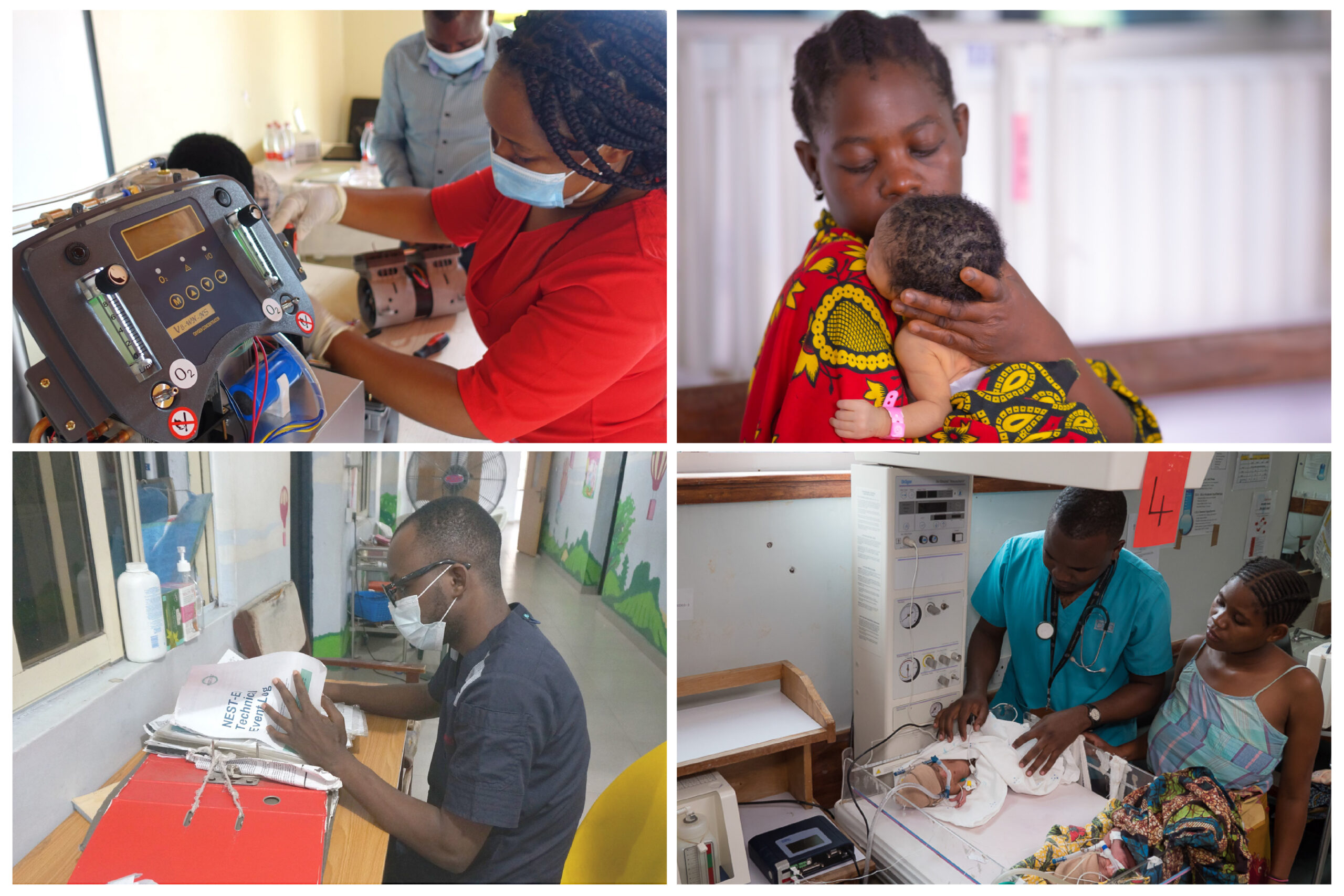 Substantial progress has been made in newborn health and survival over the past decade, including in countries with the highest burdens of mortality. Over 100 countries are now implementing the recommendations of the Every Newborn Action Plan (ENAP).
Despite this progress, the UN-IGME Child Mortality Report 2022 highlights that the first 28 days of life (neonatal period) remain the most vulnerable time for child survival, particularly in sub-Saharan Africa. From the report, these neonatal deaths constituted nearly 47% of the under-five deaths that took place in 2021. If present trends continue, over 60 countries will not meet the 2030 Sustainable Development Goal for reducing neonatal mortality or the global target for reducing stillbirths.
The >30 million small and sick newborns requiring hospital care each year present an opportunity for action. Revised ENAP targets call for 80% of national districts to have a small and sick newborn care (SSNC) unit, offering WHO level-2 inpatient care, plus respiratory support with continuous positive airway pressure (CPAP) by 2025.
What is WHO level-2 inpatient care (plus CPAP)?
The standard care at WHO level-2 newborn care includes thermal care, kangaroo mother care, assisted feeding and intravenous fluids, safe administration of oxygen, neonatal sepsis management with injected antibiotics, management of neonatal jaundice with phototherapy, management of neonatal encephalopathy, detection of congenital abnormalities and referral or management of birth defects (as outlined in the UN Survive & Thrive Report). Importantly, level-2 newborn care is also characterised by specialised staff and continuous supervision. Transition from level-2 incorporates management of respiratory distress by providing CPAP, follow-up of at-risk newborns, and exchange transfusions.
To deliver high-quality care for every small and sick newborn, we need to have the right space, people, and devices – backed by supportive leadership and data for action. Most approaches to SSNC have focused on single interventions, but most newborns will have more than one problem and therefore require multiple interventions. The delivery of these interventions is dependent on a well-rounded, functioning health system with adequate infrastructure, education resources, staff, and information systems to track progress. A well-rounded and functioning health system requires a country-led package of care with families at the centre – ensuring zero separation between parents and their newborns.
In 2020, the WHO released standards for improving the quality of care for small and sick newborns in health facilities which aim to standardise and mainstream inpatient care for this vulnerable population. Still, many questions arise on how teams in low- and middle-income contexts can implement SSNC:
Who is on the team, and how are training and mentorship conducted?
What space is needed, and how can we make the case for investment?
What equipment is required, and how can it be maintained?
What data do we have that we can use and visualise to track progress?
How can quality improvement action gaps be closed?
How can we share and access tools to reduce "reinventing the wheel"?
An innovative health systems approach recognises the importance of addressing these questions so that effective level-2 neonatal care can be scaled-up. NEST360 (Newborn Essential Solutions & Technologies) is demonstrating how a systems approach can be implemented effectively to improve SSNC. NEST360, an alliance of 17 organizations (including 13 in Africa), is working with country governments to implement a health systems package for SSNC in 67 hospitals across Kenya, Malawi, Nigeria, and Tanzania.
Countries implementing this innovative health system approach for quality SSNC have moved from a "one at a time" mentality to government-led sustainable processes. Countries and national champions are transforming care, and these stories of success must be shared with others. Learning together allows us to move faster to accelerate progress.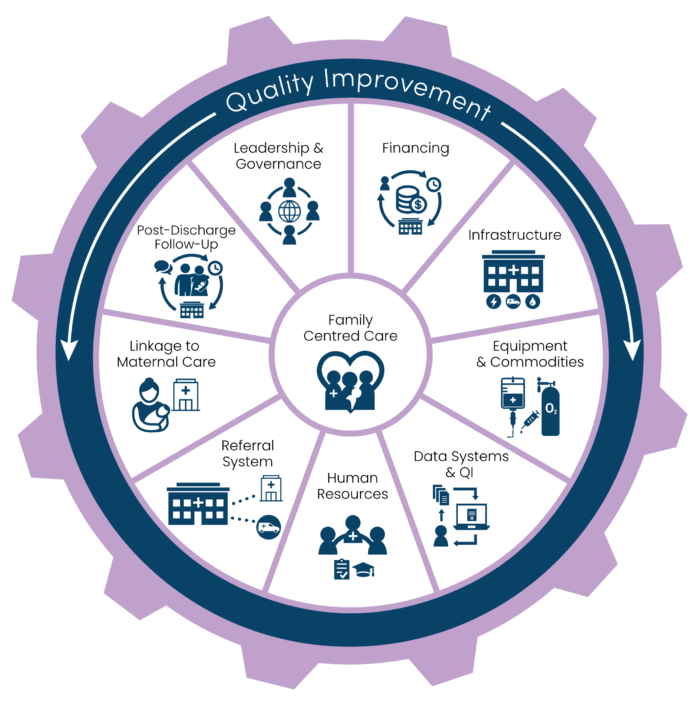 The NEST360/UNICEF Implementation Toolkit for SSNC is an open-source hub that brings together readings, tools, and learnings for implementers to act, use, share, and learn. The Toolkit also highlights case studies where country-based implementers from Rwanda, India, Malawi, and Ethiopia identify innovative approaches and strategies to support system-level newborn healthcare improvements.
Coming soon! French version of the Implementation Toolkit
Les pays d'Afrique francophone ont les taux de mortalité néonatale les plus élevés.
En mai 2023, NEST360 lancera la version française de la boîte à outils de mise en œuvre à l'IMNHC. La boîte à outils de mise en œuvre en français vise à promouvoir l'accessibilité aux meilleures pratiques et aux apprentissages en matière de soins aux nouveau-nés dans les pays francophones.
At the IMNHC 2023 in Cape Town, we aim to bring this innovative integrated approach to life through a multidisciplinary, multiparter (including the African Neonatal Association and Born Too Soon) immersive experience of real-world SSNC implementation across Africa. This NEST360 SSNC Expo will run throughout the conference and simulate a "real-world" SSNC unit. On May 10th, we also encourage you to attend the Technical Marketplace Hall for an interactive 10-minute demonstration of a systems approach to quality CPAP use, emphasising the need for the right people, the right device, and the right data.
In conclusion, adopting a systems approach is critical for improving SSNC and reaching global newborn targets. NEST360's approach is an example of how this can be achieved. Countries can integrate care into the larger healthcare system by moving beyond isolated interventions and implementing care as a package. This creates a long-term solution to ensure the 30 million small and sick newborns requiring inpatient care each year survive and thrive.
Written by Dr Sarah Anne Collins, Prof Veronika Chinyere Ezeaka, Dr Nahya Salim, and Prof Joy Lawn of NEST360, an alliance of 17 organizations, 13 in Africa. With contributions from Nicole Moreno, Lauren Allison, and Toby Whatley.