Stillbirth
Key and Emerging Evidence
This page includes a maternal mental health (MMH) landscape analysis, select sessions from a global MMH technical consultation, a systematic review on This page includes a curated list of select resources presenting key evidence on the global burden of stillbirth, priority actions for ending preventable stillbirth, as well as resources related to stillbirth and COVID-19.


Global, Regional, and National Estimates and Trends in Stillbirths from 2000 to 2019: A Systematic Assessment,
The Lancet, 2021.
This first-ever joint stillbirth estimates by the United Nations Inter-Agency Group for Child Mortality Estimation presents the number of babies that are stillborn every year due to pregnancy and birth-related complications, the absence of health workers and basic services. The report also notes that there is a high risk that the COVID-19 pandemic will increase the number of stillbirths. The report calls out a need for better measurement and data of stillbirths as well as improved quality of care during pregnancy and birth.

The first section of the recorded "Data and Parent Voices to End Preventable Deaths" session with UNICEF's Lucia Hug, from the AlignMNH Opening Forum in April 2021, unpacks the findings in the estimates report.
Key Findings
Globally in 2019, an estimated 2 million babies were stillborn at 28 weeks or more of gestation, with a global stillbirth rate of 13.9 stillbirths per 1,000 total births.
Stillbirth rates in 2019 varied widely across regions, from 22.8 stillbirths per 1,000 total births in West and Central Africa to 2.9 in Western Europe.
Estimated 2.3% was the global annual rate of reduction in stillbirth rate from 2000 to 2019, which was lower than the 2.9% annual rate of reduction in neonatal mortality rate.
114 countries had an estimated decrease in stillbirth rate since 2000, while the remaining 81 countries had no decrease in stillbirth rate. Of these countries, 34 were in sub-Saharan Africa, 16 were in East Asia and the Pacific, and 15 were in Latin America and the Caribbean.
---
UN Inter-agency Group for Child Mortality Estimation, 2020.
While the nature, prevalence, and determinants of mental health conditions in women during pregnancy and in the year after birth have been heavily investigated and researched in high-income countries, the perinatal mental health of women living in LMICs is not as widely researched. The systematic review summarizes the nature, prevalence and determinants of CPMDs in women living in LMICs.

Key Findings
In the past 20 years, the stillbirth rate globally declined by 35% (from 21.4 stillbirths/1,000 total births in 2000 to 13.9 in 2019)
In the past 20 years, the total number of stillbirths decreased by 32% (from 2.9M to 2M)
Stillbirths have not declined as rapidly as maternal, newborn, or under-5 mortality rates.
If current trends continue, 19M more stillbirths will occur before 2030.
¾ of all stillbirths occur in sub-Saharan Africa and South Asia
The portion of global stillbirths that take place in sub-Saharan Africa increased from 27% in 2000 to 42% in 2019 as population growth outpaced decreases in stillbirth rates.
---
Published in January 2016, this Lancet series on ending preventable stillbirths remains a critical global resource in highlighting missed opportunities to prevent stillbirth, identifying actions to accelerate progress to end preventable stillbirth, and issuing a still-relevant call to action covering three distinct areas for improving care and outcomes for all mothers and their babies and specifically for women and families affected by stillbirth.
Priority Actions
The executive summary outlines five priority actions to change the stillbirth trend: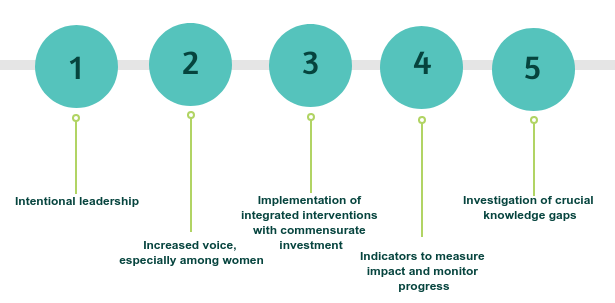 1. Mortality targets by 2030 (included in the Every Newborn Action Plan)
• National level: 12 stillbirths or fewer per 1000 total births in every country
• Subnational level: All countries set and meet targets to close equity gaps and use data to track and prevent stillbirths
2. Universal health care coverage targets
• Family planning: By 2020, 120 million more women and girls with access to contraceptives; by 2030, universal access to sexual and reproductive healthcare services and integration of reproductive health into national strategies and programmes
• Antenatal care: By 2030, universal quality of care and comprehensive antenatal care for all women
• Care during labour and birth: By 2030, effective and respectful intrapartum care to all women in all countries
3. Milestones
• Respectful care, including bereavement support after a death: By 2020, global consensus on a package of care after a death in pregnancy or childbirth for the affected family, community, and caregivers in all settings
• Reduce stigma: By 2020, all countries to identify mechanisms to reduce stigma associated with stillbirth among all stakeholders, particularly health workers and communities
• Every Newborn global and national milestones met by 2020, including the Measurement Improvement Roadmap (tracked by UNICEF/WHO)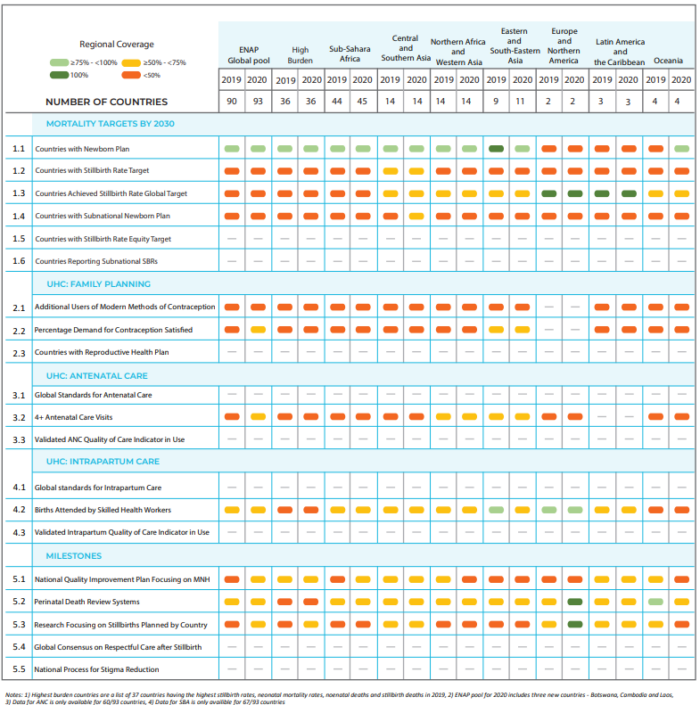 Tracking Progress Towards These Ending Preventable Stillbirths Targets and Milestones
The International Stillbirth Alliance's Stillbirth Advocacy Working Group created a Global Scorecard for Ending Preventable Stillbirths to track progress towards the call to action. The 2020 scorecard is now available.
---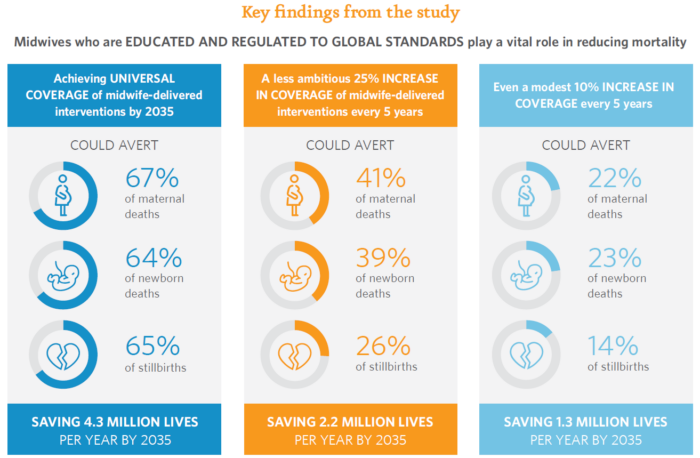 Potential Impact of Midwives in Preventing and Reducing Maternal and Neonatal Mortality and Stillbirths: A Lives Saved Tool Modelling Study
The Lancet Global Health, 2021.
This study from UNFPA, and the associated brief and infographics, document the potential impact of midwives in preventing and reducing maternal and newborn mortality and stillbirths. The study is based on modelled estimates of deaths averted in 88 low- and middle-income countries that account for over 95% of global maternal and newborn deaths and stillbirths. These countries have severe health workforce shortages: they are home to 74% of the world's population but just 46% of the world's doctors, nurses and midwives.
---
Resources on Stillbirth and COVID-19
These select resources, curated and collected by the International Stillbirth Alliance and the Partnership for Maternal, Newborn, and Child Health (PMNCH), consider the global burden of stillbirth in light of the impact of COVID-19. They include select evidence-based information and multimedia assets about pregnancy and COVID-19, and discuss how the COVID-19 pandemic stands to increase the tragedy of stillbirth. Additional information related to COVID-19 and pregnancy, birth, and newborn care on the AlignMNH Knowledge Hub here.
---