Respectful Care
Key and emerging evidence
This page includes a curated list of select resources presenting key evidence on the emergence of the respectful care movement, the importance of respectful care for women and newborns, evidence on prevalence of disrespectful care, and evidence about what matters most to women who receive MNH care– with additional resources to be added on an ongoing basis.
Exploring evidence for disrespect and abuse in facility-based childbirth: Report of a landscape analysis, USAID, 2010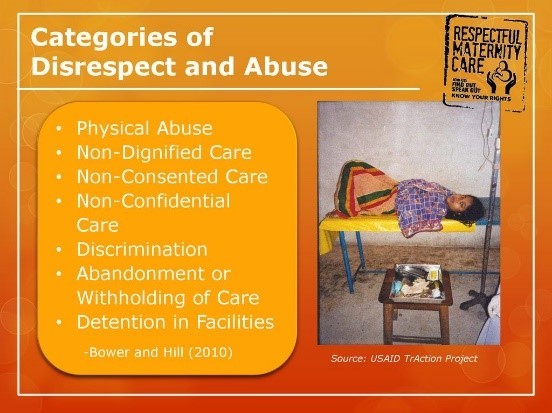 This landscape analysis report analyzed available evidence on disrespect and abuse in facility-based birth. Based on the published literature as well as in-depth interviews with experts, the analysis found that a "lack of respectful and non-abusive care at birth may encompass many points along a continuum that spans dignified, patient centered care, non-dignified care, and overtly abusive maternal care. Examples of disrespect and abuse include subtle humiliation of women, discrimination against certain sub-groups of women, overt humiliation, abandonment of care and physical and verbal abuse during childbirth."
White Ribbon Alliance (WRA) updated RMC Charter, White Ribbon Alliance, 2019
In 2011, WRA launched a global campaign to promote RMC as a universal human right, culminating in a WRA-led charter for the rights of childbearing women and an updated RMC Charter in 2019 that reinforces the importance of RMC for women and newborns.
The Mistreatment of Women during Childbirth in Health Facilities Globally: A Mixed-Methods Systematic Review, Plos Medicine, 2015
The World Health Organization (WHO) published a mixed-methods systematic review of the literature on the mistreatment in childbirth that identified seven core mistreatment themes. These include:
Failure to meet professional standards of care
Poor rapport between women and providers
Health system conditions and constraints
Physical abuse
Sexual abuse
Verbal abuse
Stigma and discrimination
Defining disrespect and abuse of newborns: a review of the evidence and an expanded typology of respectful maternity care, BMC, 2017
This article sought to address the gap in evidence on quality of care and respectful care for newborns (and families of stillborn infants) around the time of birth. Starting with the seven categories developed for respectful care for women, the author found newborn evidence for six of the categories. Many of the issues were related to poor professional care at facilities, stigma, health system limitations, and poor relationships between patients and providers, and fewer related to verbal or physical abuse. Two new categories were also identified on accountability and bereavement care.
How women are treated during facility-based childbirth in four countries: a cross-sectional study with labour observations and community-based surveys, The Lancet, 2019
WHO also published, in 2019, a four country study of mistreatment in childbirth that added to the global evidence base about validated tools to measure mistreatment during childbirth as well as the frequency of mistreatment during facility-based childbirth in Ghana, Guinea, Myanmar, and Nigeria.
As part of the same multi-country study, WHO collected data on 15 newborn care practices across nine facilities in Ghana, Guinea, and Nigeria. It is the first multi-country research describing the experience of care received by newborns in the first two hours after birth. The study found that many newborns are not receiving the full complement of recommended practices after birth; some are even receiving care that might constitute mistreatment.
Also part of the same multi-country study, in 2021 authors T. Maung et al published findings about women's experiences and their satisfaction with care as a way to assess quality and provide actionable evidence for quality improvement.
Key findings
The authors explored the relationship between women's experiences of mistreatment during childbirth and satisfaction, using a community-based cross-sectional survey conducted with 2672 postpartum women in Ghana, Guinea, Myanmar and Nigeria.

The authors found that while experiences of mistreatment were common, women also commonly reported being satisfied.

Women who reported experiences of mistreatment were more likely to report lower satisfaction with care: women were more likely to be satisfied if they did not experience verbal abuse or had short waiting times, and women who did not experience any physical or verbal abuse or discrimination were more likely to recommend the facility to others.
What matters to women during childbirth: A systematic qualitative review, ResearchGate, 2018
A systemic qualitative review of what matters to women in childbirth found, unsurprisingly, that most women want a positive experience that fulfils or exceeds their personal and sociocultural beliefs and expectations, including "giving birth to a healthy baby in a clinically and psychologically safe environment with practical and emotional support from birth companions, and competent, reassuring, kind clinical staff."
Person-centred maternity care in low-income and middle-income countries: analysis of data from Kenya, Ghana, and India, The Lancet, 2019
Authors of this 2019 article present descriptive statistics on person-centered maternity care in four settings across three low-income and middle-income countries, and examine key factors associated with such care in each setting. This study validated a 30-item person-centered maternity care (PCMC) scale in the three countries that can be used by quality and MNH program managers to monitor and guide quality improvement efforts to improve women's experience of childbirth care.
Operationalizing a Human Rights-Based Approach to Address Mistreatment against Women during Childbirth, Health and Human Rights Journal, 2020
This paper unpacks the drivers of mistreatment of women during childbirth and how they are understood and addressed within human rights. It examines how the United Nations Special Rapporteur on violence against women and the Parliamentary Assembly of the Council of Europe have addressed this issue. Understanding the drivers and human rights dimensions of the mistreatment of women during childbirth can contribute to accelerating progress toward universal health coverage, including access to reproductive health services, as mistreatment is a key barrier to women's access to such services. The article offers guidance to states on a human rights-based approach to addressing mistreatment against women during facility-based childbirth.
WHO/HRP special supplement on understanding mistreatment of women during childbirth to improve quality of care, BMJ Global Health, 2020 – 2022
A special supplement from WHO and HRP, newly published in BMJ Global Health in March 2022, spotlights how women and their newborn babies are treated during childbirth and offers a path to improved facility-based care. The WHO announcement and supplement overview can be found here.
The Role of Social Accountability in Improving Respectful Care, MOMENTUM, 2023
Respectful care is of increasing interest within reproductive, maternal, newborn, child, and adolescent health (RMNCAH) care. Concurrently, there has been a call for health systems to be accountable to the populations they serve for delivering quality care. This package of materials focuses on the role of social accountability in enhancing respectful care across RMNCAH.
Highlights
A technical report that examines the empirical evidence and theoretical basis of social accountability interventions' influence on respectful care across RMNCAH;
A companion technical brief on the use of social accountability approaches to improve respectful care in RMNCAH services; and
A research brief that presents a conceptual framework with a theoretical pathway from social accountability to respectful care in RMNCAH.
*Now available in French.
---
Labor companion resources
Recent evidence has highlighted the benefits of labor companions. Several reviews have shown that labor companionship during labor and birth improves maternal and newborn outcomes and contributes to a positive experience of childbirth. Another study found that the absence of a labor companion is associated with an increased frequency of mistreatment. Key evidence related to labor companions includes:
Published in 2017, the Cochrane review Continuous support for women during childbirth, looked at 26 studies from 17 countries, involving over 15,000 women in many settings. It found that women who received continuous labor support may be more likely to give birth 'spontaneously'. Women may also be less likely to use pain medications or to have a caesarean birth, and may be more likely to be satisfied and have shorter labors. 
In 2019, the Cochrane Perceptions and experiences of labour companionship: a qualitative evidence synthesis reported that labor companions act as advocates, bridge communication gaps providers and women, and provide practical and emotional support.
The 2020 article Labour companionship and women's experiences of mistreatment during childbirth: results from a multi-country community-based survey reported findings from a study using a standardized tool to examine mistreatment during birth in four LMICs to compare results across settings and contexts. The study found that women without labor companions experienced some, but not all, forms of mistreatment more often than women with labor companions, and that this association varied by country.