Provision of Care
Investment cases and advocacy materials
This section is under development. It will include select materials to help country stakeholders make the case for investing in strategies to improve the provision of evidence based MNH care.
Joint Statement: Improving Quality of Maternal and Newborn Care in Low- and Middle-Income Countries, A Commitment to Action from Health Care Professional Associations
This International Joint Statement, a shared commitment to action to improve the quality of maternal and newborn care in LMICs, was reviewed and endorsed by the Council of International Neonatal Nurses (COINN), the International Confederation of Midwives (ICM), the International Council of Nurses (ICN), the International Federation of Gynecology and Obstetrics (FIGO), and the International Pediatric Association (IPA).
People's Voice Report: A Civil Society Response to the Report of the Lancet Global Health Commission on High Quality Health Systems in the SDG Era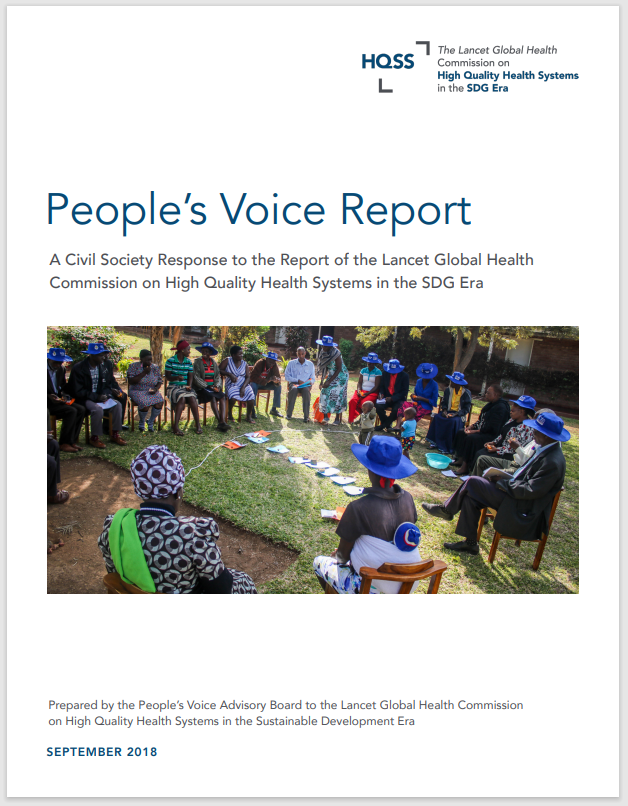 Prepared by the People's Voice Advisory Board (9 civil society experts in healthcare advocacy, citizen-led accountability for quality, and participatory methods in healthcare design and delivery), this is a companion piece to the report of the Lancet Global Health Commission on High Quality Health Systems in the Sustainable Development Goals Era, entitled, "Time for a Quality Revolution." The People's Voice Report aims to 1) contribute to a fuller understanding of health system quality in low- and middle-income countries by giving voice to people including patients, families, communities, providers, managers; 2) in conjunction with "Time for a Quality Revolution", to serve as a tool for health system quality advocates, and 3) to make people-centric recommendations for future action to better understand and deliver high quality care.
Every Woman Every Child Advocacy Road Map – Quality, Equity and Dignity in Services
Aligned to the 2030 Agenda for Sustainable Development and the Every Woman Every Child Global Strategy for Women's, Children's, and Adolescents' Health, the Quality, Equity and Dignity Initiative is committed to ensure that all women, children and adolescents have equal access to quality, affordable and respectful health care and services, in all settings, with the aim of promoting the values of Quality, Equity and Dignity in both the provision and patient experience of health care. The initiative provides an important platform for advocacy and programming, particularly in its effort to support the Quality of Care Network being led by the WHO and UNICEF, its work to support the development of costed national plans to achieve universal coverage of essential health services for women, children and adolescents and its promotion respectful care in all settings. This document outlines what is needed for progress, and lays out these top line messages:
Addressing issues of quality, equity and dignity in healthcare is critical to ensuring the health and wellbeing of women, children and adolescents.
As a basic right, increased attention must be given not only to access of healthcare, but also to ensuring quality and respectful care, equitably.
The time around birth is the most critical period for saving mothers and newborns, and preventing stillbirths, through universal and high-quality healthcare.