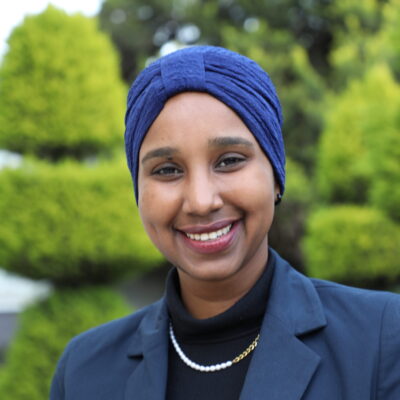 Ms. Jihan Salad
Sexual and Reproductive Health Programme Specialist
UNFPA
Jordan
Ms. Jihan Salad is a Programme Specialist on Sexual and Reproductive Health at UNFPA Jordan, with more than 13 years of international experience in the areas of sexual and reproductive health, maternal and newborn Health, and humanitarian Response. Jihan is responsible for leading and supporting the provision of a comprehensive package of MNH services at a total of 17 health facilities in the host community and refugee camps in Jordan. She also serves as the chair of the national Sexual and Reproductive Health Working Group.
Jihan also worked at the UNFPA Somalia Country Office as a Reproductive and Maternal Health Programme Specialist. In Somalia, Jihan was part of organizing the Campaign on the Accelerated Reduction of Maternal Mortality in Africa (CARMMA) and the establishment of the first-ever Forensic Centre to strengthen the medico-legal response to gender-based violence. She also supported the launch of the Women in Global Health Somalia conference and coordinated various humanitarian emergency response. Prior to joining UNFPA, Jihan served as Health Promotion and Disease Prevention Specialist at the IOM and the Ministry of Health in Somalia (Puntland Regional Government). She also worked with Dutch non-governmental organizations on SRHR issues.
She graduated as a health scientist with a Master's degree in Prevention and Public Health at the VU University in Amsterdam, the Netherlands. Jihan is a passionate advocate for the 2030 Global Agenda for Sustainable Development and the ICPD Programme of Action.