Maternal Mental Health
Implementation Resources and Tools
This page includes a mental health action plan to adapt and scale up interventions in low- and middle-income countries (LMICs), a manual for psychosocial management of perinatal depression, a study on implementation technology to scale-up training, a discussion of training grandmothers to deliver evidence-based talk therapy, and select stories and key resources for mental health support for women during the COVID-19 pandemic.
World Health Organization, 2019.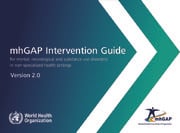 The Mental Health Gap Action Programme (mhGAP) was developed in 2016 with the objective of scaling up care for mental, neurological, and substance use (MNS) disorders. It consists of interventions for prevention and management of MNS conditions-based on effectiveness and feasibility of scaling up such interventions in low-and middle-income countries (LMICs). The mhGAP Intervention Guide – Version 2.0 was developed by the WHO in 2019 as an update to the 2016 version. Serving as a model guide, the purpose is to adapt and implement according to national and local situations in which users can select a subset of the priority conditions. Elements include:
Essential Care and Practice: A set of clinical practices and general guidelines for interactions among health care providers and people seeking mental health care.
Master Chart: Provides information on common presentations of the priority condition, including a Master Chart-Emergency Presentation of Priority MNS Conditions.
Modules: A tool for clinical decision making and management and outlined by priority conditions.
---
World Health Organization, 2015.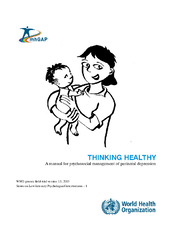 This manual was developed by the WHO in 2015 as a supplement to the mhGAP Intervention Guide (mhGAP-IG). This manual provides detailed instructions on how to implement evidence-based guidelines as outlined in the mhGAP-IG for the management of perinatal depression. Designed for integration into maternal and child health programs at the primary care level, the manual is aimed for use by community health workers and requires no prior knowledge or experience with maternal mental health care. The guide outlines the main principles that should be observed by community health workers in training and supervision, including: moving away from the purely medical care model, the importance of remaining community based, focusing on the mother and infant well-being rather than maternal depression and avoid medical terms such as 'depression' due to stigma, focus on optimal development of the infant, empowering mothers by giving practical activities and goals, encouraging family participation, and working in an integrated and holistic way. A recent study published in 2019, Using technology to scale-up training and supervision of community health workers in the psychosocial management of perinatal depression: a non-inferiority randomized controlled trial, looked adapting the Thinking Healthy Programme through the implementation of a Technology-Assisted Cascaded Training and Supervision System. Designed to train and supervise health workers from a distance using technology in post-conflict area in Pakistan, results indicated that technology-assisted training by non-specialists is equally as effective and less costly than conventional training and supervision methods.
---
TedWomen Talk by Dixon Chilbanda, 2017.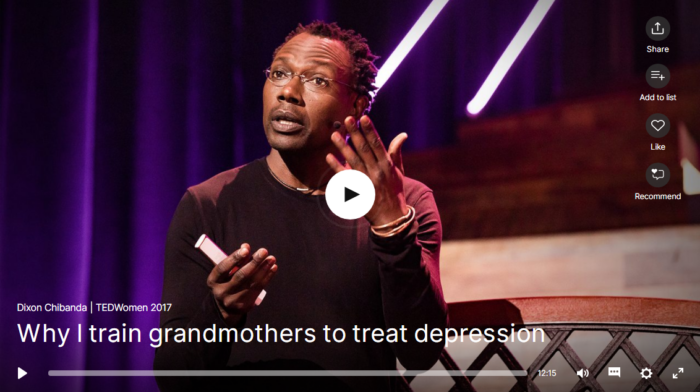 In this TedWomen Talk, Dixon Chibanda, one of 12 psychiatrists in Zimbabwe, presents an idea for caring those with mental health issues in his country: grandmothers. In this talk, you will learn more about the friendship bench program that trains grandmothers in evidence-based talk therapy to those in need. Guided by the mission to create a safe space and sense of belonging in communities, to enhance mental wellbeing, and to improve quality of life, the Friendship Bench was founded in Zimbabwe and provides accessible and scalable community based psychological interventions. By using a task shifting approach to bridge the mental health treatment gap at the primary care level, the Friendship Bench clinical team trains community health workers to provide basic cognitive behavioral therapy with an emphasis on problem solving therapy. Free mental health services also include online counseling sessions held over WhatsApp, face to face counselling, and self-directed support through a resource library called community minds.
---