Essential Newborn Care Course second edition (2022): Launch of the interim version
Apr 11, 2022 @ 7:30am
Webinar
WHO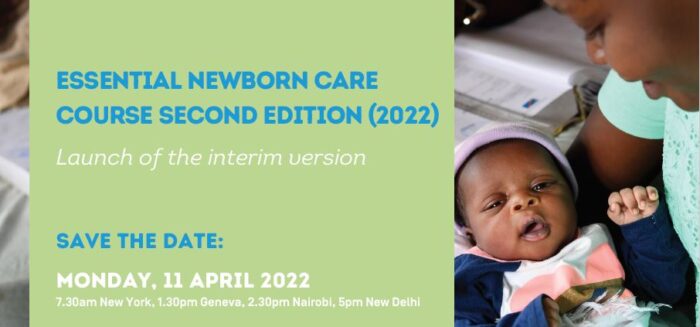 The World Health Organization in collaboration with partners is completing the second edition of the Essential Newborn Care Course (ENCC). The material provides the foundation for the essential care of every newborn: immediate care at birth, resuscitation when needed, breast milk feeding, thermal care, prevention of infection, recognition and response to danger signs. This course is part of a set of resources for improving the care of newborns, such as WHO Human Resource Strategies for improving newborn care health facilities, WHO Standards for Improving the Quality of Care for Maternal and Newborn health, and the Standards for the care of small and sick newborns in health facilities.
The second edition of ENCC is competency-based and has many new features with the flexibility to be used for both in-service and pre-service settings, different course options, aligned with WHO standards with focus on the rights of newborns, nurturing care, and strengthened links to care in the community. The course materials encourage collection, analysis and use of data in quality improvement activities focused on essential newborn care. Educational methodologies incorporate active learning and structured simulations. The materials integrate existing newborn courses from around the world such as WHO Early Essential Newborn Care coaching, as well as Helping Babies Breathe and Helping Babies Survive, which have been updated and aligned with WHO guidelines.
WHO, UNICEF and partners were able to conduct only limited field testing with users due to travel and meeting restrictions during COVID-19 pandemic. Therefore at this time, we release an interim version, This version is released for field testing in all settings, countries and regions in order to finalize and publish the 2nd edition of ENCC later in 2022.