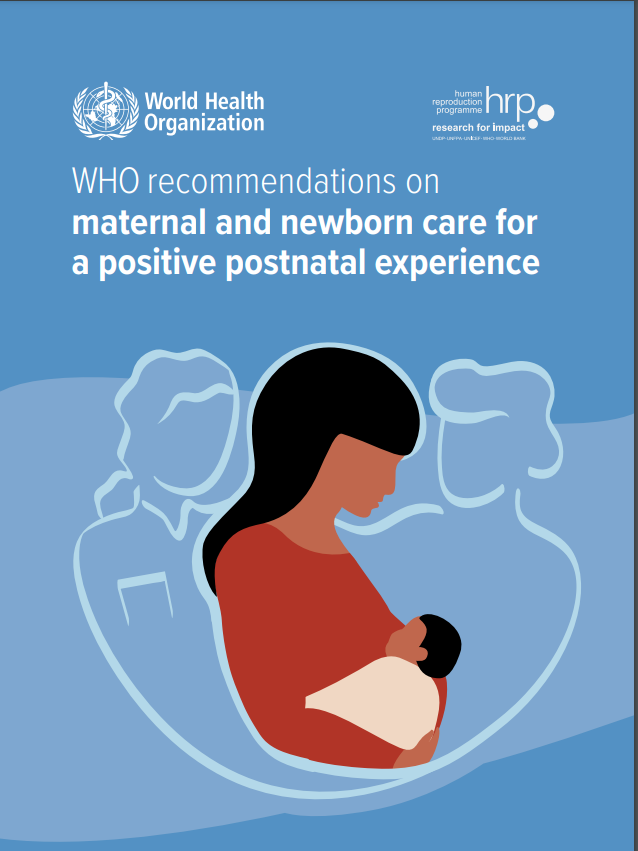 On March 30, 2022, the World Health Organization released guidance on maternal and newborn care for a positive postnatal experience. A total of 63 recommendations on maternal care, newborn care, health systems, and health promotion address individual patient care and service delivery.
The new guidelines respond to global trends in maternal-newborn morbidity and mortality. As death rates drop globally, the new guidelines place great emphasis on thinking beyond survival, and continue to provide guidance on essential interventions to continue reductions in maternal and newborn mortality.
Here is what's new:
The importance of family-centered care | The new guidelines address the importance of the home and whole family in the health of the mother-baby dyad, including specific guidelines for the inclusion of men in care plans, the use of home-based medical records, and assessment of the home environment prior to discharge.
Increased focus on maternal well-being | Moving beyond survival for the mother, the new guidelines address maternal mental health and comfort, including specific guidelines for pain control following delivery, and universal screening and intervention for depression and anxiety.
Thinking beyond survival for the newborn | Interventions during the hours, days, and weeks following birth can have long-lasting impact on the health and well-being of children. The new guidelines specifically address responsive care, early infant development, safe sleep, and screening for hearing and eye abnormalities.
Tackling health system and workforce challenges | The new guidelines recommend several strategies for increasing the size and quality of the healthcare workforce needed for a positive postnatal experience, including specific recommendations about mobilizing a greater diversity of health workers, establishing midwife-led continuity of care models, and using digital tools to improve birth registration and health behaviors in the home. The new guidelines also recommend integration of complementary maternal-newborn services when possible (maternal mental health and early infant development) and routine screening and prevention of infectious diseases (de-worming, TB, HIV screening).