Why Midwives Matter in Crisis Settings: #WorldHumanitarianDay
Aug 19, 2022 @ 10:00am - 10:45am
Online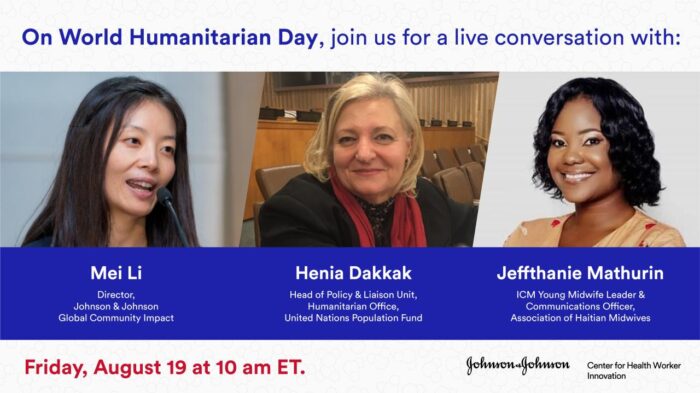 In 2022, the number of forcibly displaced people has reached 100 million; with women and girls comprising 50% of this total. As climate change and conflict continue to multiply demand for humanitarian support around the globe, the essential role of midwives and the lifesaving care they provide has become more urgent than ever.
On Friday, August 19 at 10 am EDT, the Johnson & Johnson Center for Health Worker Innovation will host a live conversation in honor of World Humanitarian Day.
Hear from Henia Dakkak, Head of Policy and Liaison Unit in the Humanitarian Office at UNFPA and Jeffthanie Mathurin, Midwife, Communication Officer of the Association of Haitian Midwives and member of the Young Midwife Leader (YML) program of ICM in a discussion moderated by J&J Director of Global Community Impact, Mei Li.